I spent hours cleaning this week. An hour here, and hour there, but its finally done. I still have more to do but at least its clean and things are back where they belong.
I even got rid of some stuff to make room for newer things or things that didn't have a home before. I made my desk and the immediate area around my desk a little more organized and put things within reach.
Make sure you check the
Store Blog
this week to see the rest of the Design Teams rooms.
Heres mine:
My Desk area. My mom got me a drafting table for Christmas about 7 years ago. It was my first scrapping desk. It came with a tray attached to the side, a stool and the lamp. Pretty neat setup. My old rolling totes fit perfectly underneath this when we lived in the condo and space was at a premium.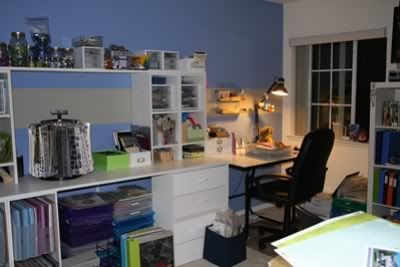 This tray is awesome. There is a place for everything. I just cleaned it out to make room for some new stuff too. The little sections were getting cluttered.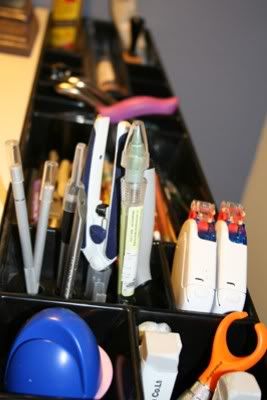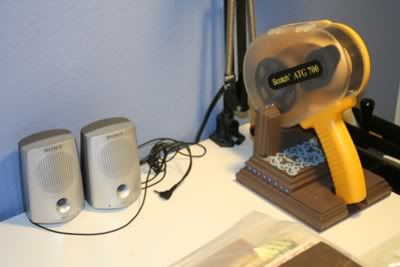 The extension of my drafting table. When I moved everything into the loft, I expanded. I added this desk and the computer desk below. Each one is a combination of laminate pieces from Lowes. This desk is made up of closet organizers while the one below is a garage workbench.
I used several different pieces from the closet section and then added plain sheets of laminate for desktops. It measures 8 feet long. The bottom half is 48 inches wide and the top half is 24 inches wide. The bottom half is out from the wall. I designed this and my engineer dad made sure it was functional. He braced the back half of the laminate desktop with braces and a thin strip of wood. The upper half is actually up against the wall so it looks like a desk with shelving around it.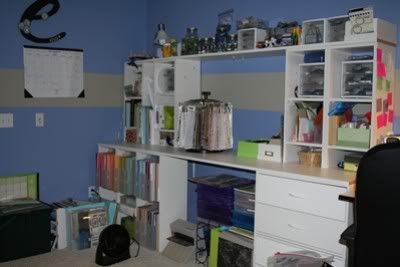 Computer Desk:
I added this table after I moved the room from a spare bedroom to the loft. The setup is actually a garage workbench from Lowes. I just had my dad leave the doors off the bottom for storage. Its a bit higher so I can stand and work or I use the stool that goes with the drafting table.
You can see a new catalog from Making Memories on my desk. 2 new lines coming soon!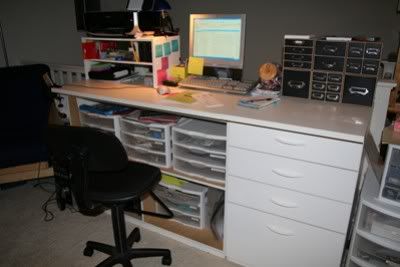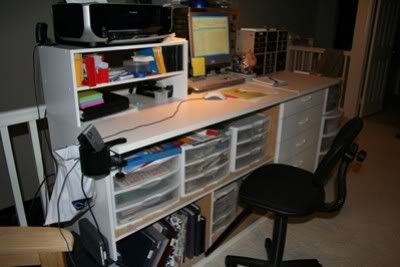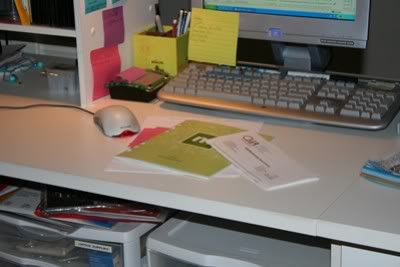 The drawers are FULL of stuff. Paints, Stickles, Felt and chipboard.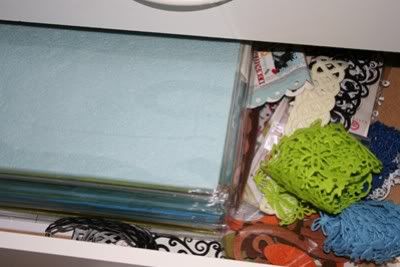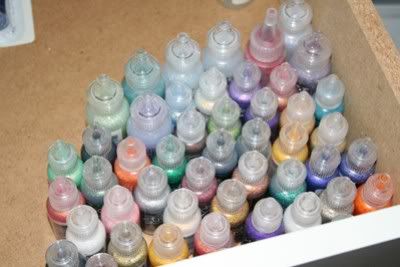 My ribbon storage. Its not quite done. A tedious task of stringing all of those ribbons on the racks. I borrowed this idea from Michelle Hill. She bought a pants hanger with multiple bars. She strung her ribbon on each bar. The best part about this is, you can unhook one side of each bar and swing the arm out. It gives you a better idea or what ribbon you have. Now, if I can only finish it......
And those paper racks are from Target. Each shelf is a different manufacturer. I love being able to find the line of paper I'm looking for easily. I don't do things by theme or color (except my cardstock) so this was the easiest way.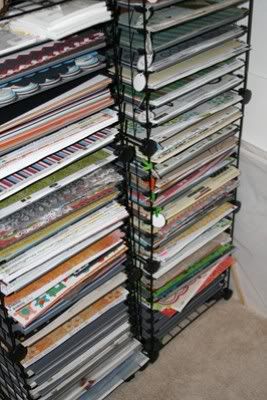 My Expedit from Ikea. I wish I had the huge 5x5 unit, but this one was the biggest I could fit in this room. Right now, it holds a basket of flowers, all of my idea books, my acrylic stamps and folders where I keep layouts and sketches I like. My self made idea book. On top is a speaker set for the iPod, XM Radio and some pictures.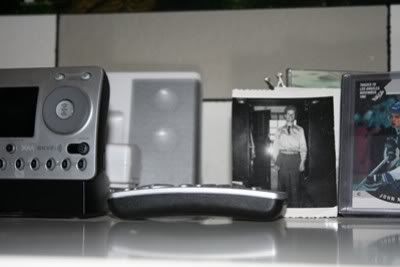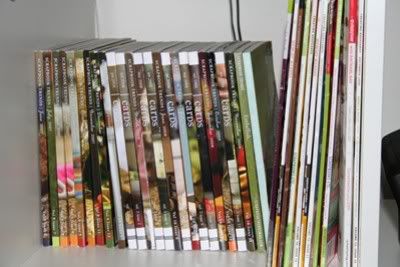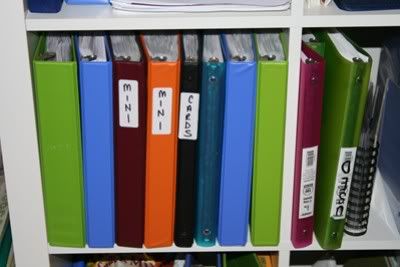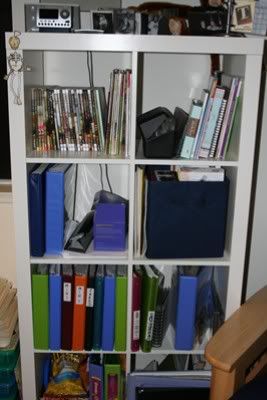 My book of rubons. I like to be able to flip through rubon sheets easily. I took a 3 ring binder (one of the 4 inch spines) and added page protectors with sheets of paper in them. One set of rubons in each side of the page protector. And for companies that like to do different color versions of the same rubons (like Basic Grey) they go in the same page protector. Easy to flip through, but you can see my 'stash' is getting kind of big.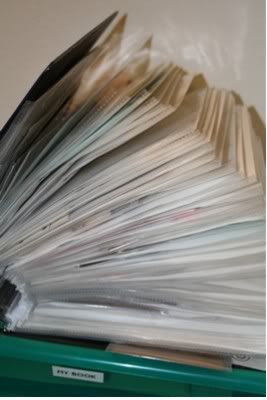 My ink drawers. Two small plastic drawers from Target. One drawer for each color. All of my Cats Eye Chalks, Distress Ink Pads and Staz-on Ink pads are in there.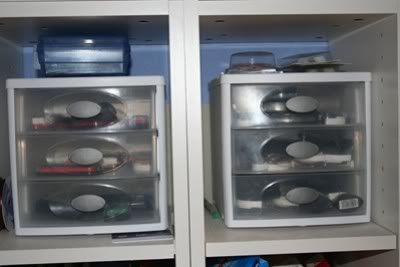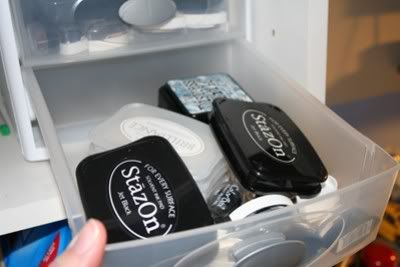 Misc. things around the room:
Drawer full of punches. I stick to the basic punches. Nothing too fancy.
Stamp rack above my desk. This is the rail system by Lisa Bearnson.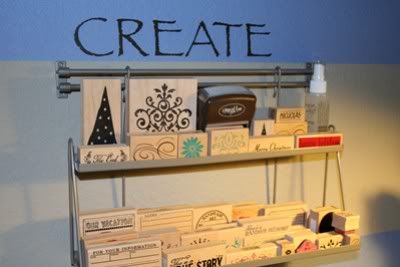 A wooden 'E'. I found some lady who was selling these online. Any font, any size. This is a 26 inch one.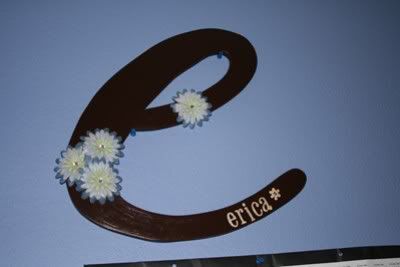 My basket of tags. Mostly
Elle's Studio
but there is a mix of other stuff as well.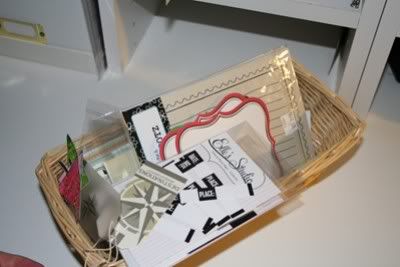 My Bazzill collection and my Clip It Up.