My room is clean and organized. I finally have the proper paper storage. It took two of them, but the paper racks from Target fit perfectly in the corner and now sort out my paper by brand. Still labeling everything. I reorganized my Bazzill cardstock too. No more 'collections', its all soted by color. All of my chipboard fills up one very LARGE drawer. I never imagined I had that much chipboard, but apparantly I do. Better stop buying it......


For someones post on 2 peas, you can sort of see my ribbon storage in this picture. Its two dowels hung across the desk. My dad hung something to support them in the middle since they were so heavy. I made this entire desk out of closet organizers from Target and Lowes. Just the cubes and drawers with a piece of matching laminate 8 feet long x 48 inches wide for the desk. Then I stacked more cubes on top. My dad drilled two holes on each side and we stuck the dowels through. The book case in the background in gone and was replaced with an Expedit bookcase from Ikea this weekend.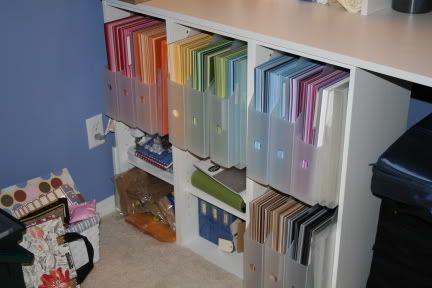 Bazzill by color. If I felt like wasting more time, I would have actually sorted based on the Bazzill sample thing, but I wanted time to scrap this weekend.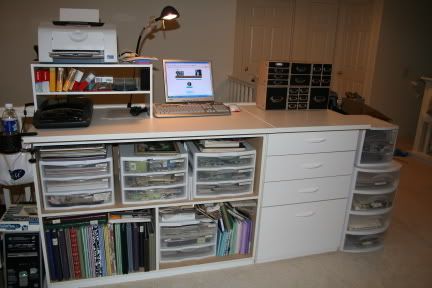 Remember that chipboard drawer I told you about? Well its that bottom one. The big white one. Yep, its full of chipboard. Lots of it. Rows and rows of it. Boxes of it. Apparantly I'm obsessed with chipboard.
But my room is clean and organized. I know where everything is and I got three major projects done this weekend.