Coming to a rink near you!
So, after a long debate, I decided to hit the Aliso Viejo Ice Palace. Originally my mother was going to hit that one and I was going to go to the one closest to the house - Riverside Rink. But then!! The Kings announced WHO was going to be at which rink so I decided against Riverside and made the drive to Aliso. Boy, was it worth it. :)
Michael Cammalleri, Alyn McCauley and Marty Murray were the Kings there. And David Courtney, the Kings PA announcer at Staples. I gave the man props for the good job he does at Staples compared to that loser over at the Ponda Center. They have fake cheering, recorded cheering. How sad. And the announcer screams. It scares the you know what out of you whenever he speaks. And you never know when he's going to do it, it just sort of happens. You're sitting there watching the game and then this voice from above shouts, making you jump out of your seat. Okay, dude, its just a goal.
Anyway, moving on. So they did it a little different this year. Instead of strictly a Q&A session like last year followed by a small workshop with the kids, they just did the workshop. You could submit questions for the players to answer. They'd call them over and ask the question. Not bad, but I liked having them stand there and answer the questions. Of course, their moronic 'bodyguards' were there - like a bunch of kids are going to hurt the players. This is supposed to be for the kids, for the fans, but the fans can't get anywhere near them. And the rink wasn't that packed - not as bad as last year. I think everyone went to the rink Anze Kopitar was at. :)
But Cammy did see the jersey, pointed and winked. And My mom got her picture with him. he's such a sweetheart. Great personality and a great hockey player. And cute. Terribly cute. Make you want to toss your panties at him cute.
Cammy Q&A - Wears #13 because when he was 7, his dad lied about his age to get him on a team. When they handed out jerseys, his dad told him to wait because he was the youngest. the only number left was 13 so he took it. Only one other player wore #13 at the time. Since its not a lucky number, he makes sure he sticks to his superstition of putting his equipment on exactly the same way every time.
Also, he loves playing with someone like Kopitar. This year, Coach Crawford has him in more of a defensive role which he's getting used too. He said he likes to play the entire ice and this is his chance.

Cammy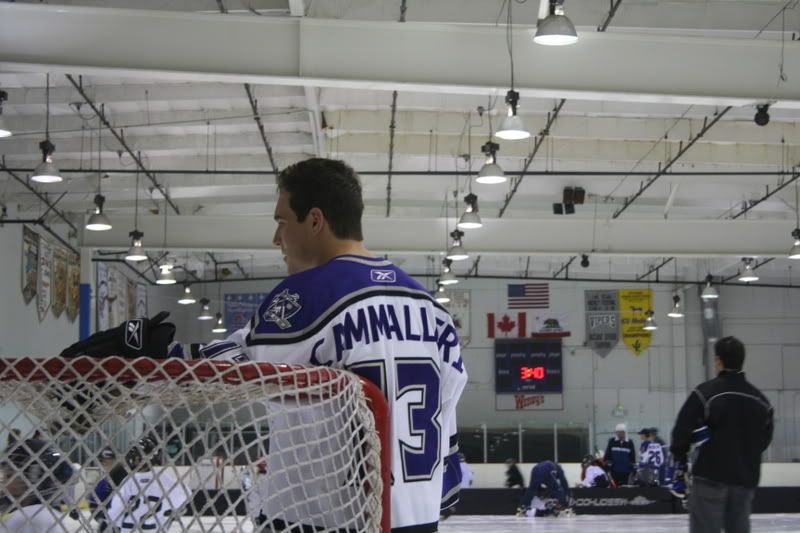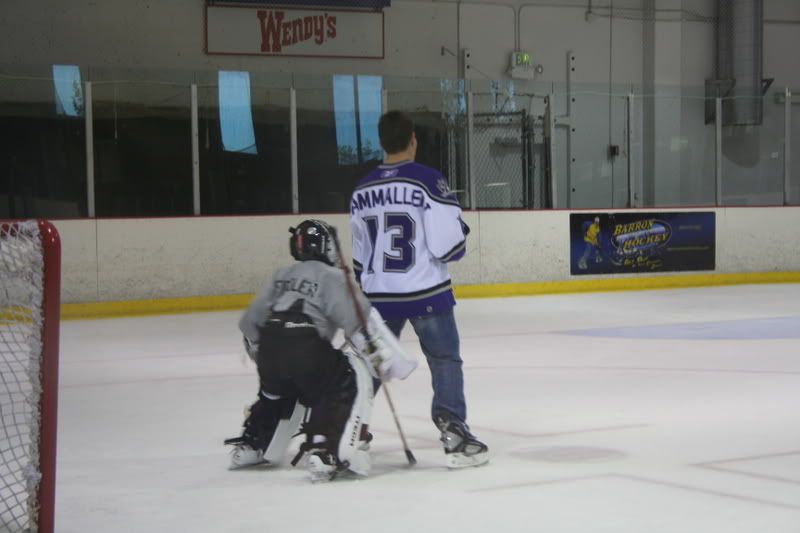 Crowding the goalie
Team picture. Cammy is laying on the ice in the front row.